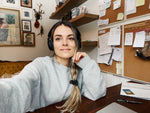 Podcast interview with Anna
Anna was recently interviewed by Rájehis Sápmi which is a podcast broadcasted by Pacific Sámi Searvi. This is a two episode interview, and the first part is now available HERE. Just click on the link and then on your preferred podcast host and learn more about Anna's story and handcraft. 
Words from Anna:
"It's an honour to be featured on Rájehis Sápmi.When I first started to share my jewelry with the public I had no idea that so many people would be interested in my story and what I'm creating. I was just excited that my friends wanted to wear my pieces. My grandfather Algot would be so proud if he was still around. He was a very proud and Sámi hand-crafter himself"