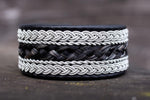 Handcrafted Horsehair Jewelry Makes a Wonderful Gift
Learn why custom horsehair bracelets from Simply Sámi Jewelry are so unique.  
Jewelry appeals to people for different reasons, but when the materials hold special meaning, that bracelet or necklace becomes even more impactful. 
As someone who loves horses, Anna at Simply Sámi Jewelry can create a custom bracelet using strands from your horse's tail. 
Not only does the work reflect her rich Nordic heritage, but it's a reminder of your own enduring connection to the horse in your life.
Jewelry Made with Reverence for Nature
The Sámi people are an indigenous culture. Like the First Nations people of Canada, they have a deep connection to the animals they herd and the land they share. Sámi people were nomadic back in the days, but today they are not nomadic. Quite a few Sámi still herd reindeer, but far from everyone. They have designated large areas of land where the reindeer are herd and followed (usually by snowmobile or ATV), there are temporary housing in the herding areas, but everyone lives in regular modern houses in a modern society. Just like everybody else.
Having made the trek from Sweden to Canada, Anna Lengstrand now resides in Pemberton on the traditional territory of the Líl̓wat Nation with her horses. 
Horsehair jewelry entwines Anna's passion for heritage, horses, and contemporary fashion. It is designed for anyone. 
Jewelry That Tells a Story  
Another important part of Sámi tradition and culture is the creation of special decorative, traditional, outfits called Gakti. This clothing is mostly worn during important occasions, but sometimes also daily, and indicates the region where the person is from and much more details about the person and his/her family. 
Even in modern North American society, it's the details of your wardrobe that let the world know who you are. A custom horsehair bracelet is a stylish and elegant way for you to proudly wear your heart on your sleeve.
The next time you slip on one of Anna's custom handmade horsehair bracelets, you'll have your own story to share.
Jewelry That Celebrates a Special Bond
Horses are beautiful animals, and the strong emotional connection they forge with their handlers never goes away. 
It's a great way to honour a horse that has recently passed or the one that has just come into your life. Simply Sámi Jewelry will create an attractive memento of your friendship that will last a lifetime. A very special keepsake piece of jewelry. 
Anna can also advise you on the safest methods for collecting your horse's tail hair that will provide you with the best results.  Just reach out to Anna and she will send you all the details. 
Jewelry with a History in the Arts
The contributions of horses to the betterment of all humankind are well known. 
Over the years, horsehair has been used in various items. Due to its strength and texture, horsehair could be found in everything from pottery and furniture to the wigs worn by British barristers and judges.
However, a lot of people may be unaware of the important role horsehair has played,
and continues to play in the world of fine arts. 
Oil painters love working with horsehair brushes because they hold the paint better than synthetic bristles. 
Musicians who play their stringed instrument with a bow, including violinists, violists, cellists, and bassists, prefer the sound of horsehair bows compared to their manufactured counterparts. 
Jewelry That Will Be Remembered
Sometimes, it's the motivation and passion behind the creation of a jewelry piece that makes it so special. 
When it comes to the memories you have of a beloved horse, a bracelet made of its hair will become a cherished accessory in the years ahead.   
Whether it's for yourself or a loved one, a horsehair bracelet from Simply Sámi Jewelry offers old-world elements with contemporary style that is sure to complement any wardrobe. 
Contact Anna today to learn more about your different options.