Fusing old Sámi traditions with contemporary style, Simply Sámi Jewelry is a way for the modern man and woman to celebrate Nordic indigenous handcraft while standing up for sustainable fashion and self empowerment
Jewelry fuelled with tradition, the love of the reindeer and nature
A FEW OF ANNA's PERSONAL FAVOURITES
ROOTED IN FAMILY TRADITION
"I brought all my tools when flying back to Sweden & Sápmi and made bracelets on my grandparent's kitchen table with them watching me carefully. They both believed strongly in what I'm creating, and they proudly wore my creations" - Anna Lengstrand
Authentic
nordic Sámi handcraft and indigenous jewelry tradition passed from Anna's elders
Hand Made
no mass-production. Everything is custom made to fit your order by Anna's hands
Eco Friendly
made from high quality raw materials imported from Northern Sweden such as plant-dyed reindeer hide
Authentic

nordic Sámi handcraft and indigenous jewelry tradition passed from Anna's elders

Hand Made

no mass-production. Everything is custom made to fit your order by Anna's hands

Eco Friendly

made from high quality raw materials imported from Northern Sweden such as plant-dyed reindeer hide
Jewelry for
Every Occasion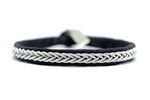 Connect: Soul Binder

Weave your hearts together with the SOUL BINDER bracelet. You'll always be connected with each other. One for you and one for your soul mate. Love. Strength. Friendship.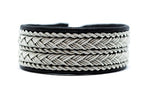 Explore: Panorama

Named after the mountains and peaks in the Sea to Sky Corrdior, PANORAMA represents the beauty and spirit of nature. Its story weaves together with yours.
Take A Peek Inside
Anna's Studio
Our Happy Customers
"I got my Torne bracelet in June and never stopped using it since then. It was extremely hard to pick the one among so many beautiful options. I just love it and I am already ready to get the second one!"

Simone Maciel

"My Sami Sarek bracelet arrived today and it's beautiful! I have several Sami bracelets from Norway and Anna's is as well made and as exquisitely designed. I am so happy with my purchase and will order again from Anna".

Elaine Boisson

"Anna, your are one creative beautiful soul. Your jewelery is stunning and i keep coming back again and again. Thank You!"

Jacqueline Kempton

"Perfectly made, perfect fit! Really high quality and professional! Getting so many positive comments about the bracelet from everyone. Thank you so much for this beautiful bracelet!"

Karolina Semberg