Part II of the podcast interview that Pacific Sámi Searvi did with Anna earlier this year is now out! If you missed the first part, they're both available through your favourite podcast platform. Just search for "Rájehis Sápmi" or click HERE. In this final part of the interview, Anna share about ...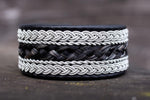 Learn why custom horsehair bracelets from Simply Sámi Jewelry are so unique.   Jewelry appeals to people for different reasons, but when the materials hold special meaning, that bracelet or necklace becomes even more impactful.  As someone who loves horses, Anna at Simply Sámi Jewelry can create ...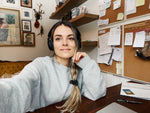 Anna was recently interviewed by Rájehis Sápmi which is a podcast broadcasted by Pacific Sámi Searvi. This is a two episode interview, and the first part is now available HERE. Just click on the link and then on your preferred podcast host and learn more about Anna's story and handcraft.  Words ...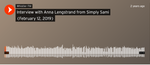 I've been on our local Whistler FM radio show a few times. Yes it's definitely always a bit nervous, but the staff is so friendly so at least sometimes you forget that you're sending live haha. You can listen to one of the interviews HERE. Or click the image below. I hope you like it!  
You can read about me and my handcraft in this article that was published earlier this month on the Entrepreneur's Break website. CLICK HERE or click on the photo below