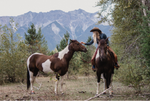 Horsehair Jewelry: Your Perfect Keepsake
The majestic and mighty horse - personally one of my favourite animals! 
For those who have ever spent any significant time with horses, you'll understand their healing power. They can be our best friend, our therapist, our moment of peace, our connection to nature, and the best teacher to learn about ourselves. There is nothing more freeing than galloping through summer meadows or exploring autumnal mountains with the wind in your hair, completely in sync with this magnificent creature - which is what led me to combine my love for sami handcraft and my love for horses to create original horsehair jewelry for you; my amazing community.
How I Design Your Horsehair Jewelry As a Keepsake Piece
I have been specializing in horsehair jewelry for over 5 years now. My designs are all original pieces and I personally create everything by hand (with love!) from the braiding to sewing. Together, we'll join forces to assemble the perfect piece that will capture the spirit of your horse, and if there's any ideas you have about customizing your design, just let me know and I'm happy to discuss it with you!
Ahead of creation, I'll ask you to send me a minimum of 40cm of long strands of your horse's hair, which will need to be about 1/2" thick when in a bundle. The best way to cut the hair is from the bottom of the tailbone. You can simply lift the tail, separate the longest hair, and cut the amount you need (it won't be visible that you have cut any!).
For the full information pack, all you need to do is send me a quick inquiry and I will email you back with all the specifics you will need to choose your design and collect the hair for your special bracelet. After I have received the tail hair of your heart horse, it will be braided into a Sámi inspired bracelet, fueling it with the spirit of your best friend for you to take with you wherever you go.
To see some examples of my horsehair jewelry, take a look here. You'll be able to choose from a range of reindeer leather colours from white to browns to black, as well as different sizes and designs.
My Journey As a Horsewoman
Ever since I was born, animals have always been my most intimate friends. I was the child that always had a dog or cat by my side! My mother and grandfather were passionate horse people too and loved to spend time riding when they were young, which is where I picked up my love for horses and I started riding lessons when I was 6 years old. I have ridden ever since!
Now 30 years later and living in Pemberton BC, I still spend a lot of my days riding in the mountains or playing with horses. In fact, my passion for horses has only deepened over the years as I spent more and more time working with these incredible spirits, and I am now the proud owner of three beautiful horses. It was actually a childhood dream of mine to ride into my wedding day on horseback, which I was also lucky enough to fulfil back in 2020 when I rode my Paint mare Stella:
For those who have never tried horseback riding, I'd love to share some of my favourite reasons why it's never too late to start! And perhaps I can inspire you to book your first lesson:
You get to enjoy more time in the great outdoors and experience the joys of horses

Connect with these beautiful creatures and learn so many new lessons in life and about yourself. It's pure therapy, and they make us better people (they see through all our masks).

Challenge yourself and your horse. Physically but also a mentally. It's a big challenge for us to be good, reliable, stable, and clear leaders and riders for our horses.

You can grow together and it's one of the most beautiful experiences you can have. 

You'll learn to always show up, rain or sunshine. And leave your everyday problems at the barn door.
To inquire about your own horsehair jewelry keepsake, please contact me and I will send you an email with all the information you need. I am so excited to give you this special gift and help you keep the spirit of your heart horse alive and with you forever.
Love, Anna